Tip-enhanced Raman spectroscopy: principles and applications
EPJ Techniques and Instrumentation
2015
2:9
Received: 29 October 2014
Accepted: 22 May 2015
Published: 1 July 2015
Abstract
This review provides a detailed overview of the state of the art in tip-enhanced Raman spectroscopy (TERS) and focuses on its applications at the horizon including those in materials science, chemical science and biological science. The capabilities and potential of TERS are demonstrated by summarising major achievements of TERS applications in disparate fields of scientific research. Finally, an outlook has been given on future development of the technique and the mechanisms of achieving high signal enhancement and spatial resolution.
Keywords
Tip-enhanced Raman spectroscopyNanotechnologyNanophotonics
Introduction
Tip-enhanced Raman spectroscopy (TERS) combines the chemical sensitivity of surface-enhanced Raman spectroscopy (SERS) with high spatial resolution of scanning probe microscopy (SPM) and enables chemical imaging of surfaces at the nanometre length-scale. The concept of TERS was first proposed by Wessel in 1985 [1], and it was experimentally realised in 2000 [2–5]. Since then TERS has rapidly progressed to become a non-destructive scanning probe microscopy tool for surface chemical characterisation [6], and opened up the opportunities to study single macro-molecules with sub-nm spatial resolution [7]. Over the last 15 years, the technique has been used to study scientific problems in biology [8], photovoltaics [9], catalysis [10], semiconductors [11], carbon nanotubes [12], graphene [13] and single molecule detection [7].
Unlike electron spectroscopy and microscopy techniques such as scanning electron microscopy (SEM), transmission electron microscopy (TEM) and X-ray photoelectron spectroscopy (XPS) that require vacuum for their operation, TERS can be used in ambient environment and it is well-suited for the investigation of samples in aqueous mediums [14, 15]. Although super-resolution fluorescence microscopy techniques can be used for imaging of biological samples below the diffraction limit, the fluorescent labels prevent the observation of samples in their native state [16]. Being a label-free technique, TERS can be used to study the molecules directly particularly for investigating chemical composition and molecular dynamics in biological samples. Therefore, as outlined in the later part of this review, TERS applications on biological samples such as pathogens [17], lipid and cell membranes [18], nucleic acids [19], peptides [20] and proteins [21] have drawn a significant interest.
This review aims to describe the recent progress in using TERS to obtain novel insights in all the areas of application explored so far. This article is divided into two parts. In the first part, an introduction to TERS principles and instrumentation is presented, and the second part focusses on the applications of TERS in biology, catalysis, polymer-blends, semiconductors, 1-D and 2-D materials and single molecule detection. An attempt has been made to catalogue the significant applications of TERS in diverse areas of scientific research in order to provide a snapshot of the current state-of-the-art.
TERS principles and instrumentation
The principle of TERS is schematically shown in Fig.
1
. A sharp metal or metal-coated SPM tip is positioned at the centre of a laser focus, and the electromagnetic (EM) field at the tip-apex is confined and enhanced due to a combination of localised surface plasmon (LSP) resonance and lightning rod effect. This increase in EM field enhances the Raman signal from the molecules in the vicinity of the tip-apex and enables nanoscale chemical imaging of a surface, overcoming the diffraction limit of SERS and conventional Raman spectroscopy.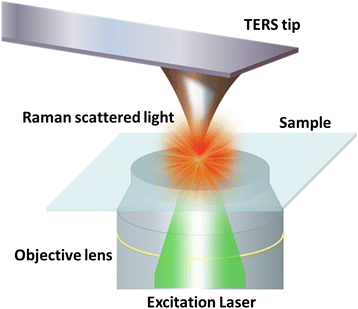 TERS applications
Spontaneous Raman spectroscopy has been used as a label-free chemical characterisation tool in materials science [47], chemical engineering [48] and recently in biology [49]. Tip-enhanced Raman spectroscopy extends the spatial resolution of the technique to the nanometre length-scale. Attempts have been made to use TERS to study a range of nanostructured materials and biological samples, and have provided insights into the structure and chemistry of these systems that are not possible to obtain by conventional analytical methods. Few specific examples are highlighted here to demonstrate the advancement of the technique.
Review and conclusion
In the last 15 years, TERS has emerged to be an effective tool for nanoscale chemical and structural characterisation of surfaces. Being an ambient technique it is rapidly defining its unique capability as a label-free nondestructive nano-tool. TERS doesn't require high vacuum or cryogenic temperatures for its operation and has been applied in both air and liquid environments. At the early stage, nanoscale materials with large Raman cross-sections such as carbon nanotubes have been the preferred sample; however, recently biological and crystalline materials having much smaller Raman cross-sections, have also been characterised at the nanoscale. The investigation of biological samples such as pathogens, lipid membranes, nucleic acids and amino acids highlight the possibility of chemical measurements of biological system at the nanometre length-scale without labelling. Another area where TERS is likely to have a large impact is the field of nanoscale electronic and optoelectronic devices employing semiconductor, 1-D and 2-D materials. As the device size shrinks below 20 nm, TERS would find a niche in characterising these devices.
For a long time the issues related to tip-yield and reproducibility have slowed down the utilisation of TERS. However, significant progress has been made to resolve these problems with several groups reporting nearly 100 % yield of TERS probes [35, 36]. The strategy of reducing the refractive index of the AFM tip prior to metal deposition has proved to be very effective in improving the plasmon resonance characteristics of the TERS probes. Furthermore, a recent interlaboratory study carried out by Zenobi group has demonstrated that TERS spectra from the same sample can be reproduced in different labs around the world [6]. Furthermore, reference samples are required for verifying the performance of TERS instruments, TERS probes and optimisation of tip-fabrication procedures. Progress has been made in this direction and effective reference methodologies for an accurate characterisation and comparison of TERS probes have been reported [29, 101, 122]. These reference methods are expected to accelerate uptake of the technique and facilitate development of commercial TERS probes.
The physics of high signal-enhancement mechanism and sub-nm resolution is not fully understood yet. Recent results of 0.5 nm spatial resolution and imaging a single molecule by Zhang et al. have opened up the debate on the singular contribution of the electric field enhancement in the gap-mode [7]. Chemical enhancement is attributed to be the mechanism for very high signal enhancement; however, it does not explain the unexpectedly high spatial resolution observed in the recent report [7]. The possibilities of stimulated Raman scattering and contribution of hot-electrons have been invoked to explain the mechanism of high enhancement [123]. Further research is required to understand the enhancement mechanism in TERS. However, with the recent progress in tip-yield, automation of instrumentation, and preparation of effective reference samples and standards, TERS can become a routine analytical technique with unique capability of chemical characterisation at <50 nm spatial resolution.
Declarations
Acknowledgements
NK, SM, and DR gratefully acknowledge financial support from the Innovation, Research and Development programme of the National Measurement System, UK (Project No: 115948). NK and DR acknowledge financial support from the NEW02 project of the European metrology research programme (EMRP) (Project No: 116326). WS acknowledges financial support from Natural Sciences Foundation of China (Grant No: 61306115 and 61178039) and China Postdoctoral Science Foundation (Grant No: 2013 M541807).
Authors' Affiliations
(1)
National Physical Laboratory, Middlesex, UK
(2)
Institute of Materials Physics, Hangzhou Dianzi University, Hangzhou, China
(3)
Ningbo Institute of Materials Technology & Engineering, Chinese Academy of Sciences, Ningbo, China
Copyright
© Kumar et al. licensee Springer on behalf of EPJ. 2015
This is an Open Access article distributed under the terms of the Creative Commons Attribution License (http://creativecommons.org/licenses/by/4.0), which permits unrestricted use, distribution, and reproduction in any medium, provided the original work is properly credited.