Sympathetic cooling of molecular ions with ultracold atoms
EPJ Techniques and Instrumentation
2016
3:8
Received: 30 August 2016
Accepted: 4 November 2016
Published: 7 December 2016
Abstract
Sympathetic cooling of molecular ions with ultracold gases is enabling a new era of research in chemistry and physics. There has been much progress in this new field in the last several years and many unanticipated challenges have been overcome. The aim of the present manuscript is to provide a concise review of this work and discuss the way forward for the field.
Keywords
Cold molecular ionsSympathetic cooilngAtom-ion chemistryNonequlibrium physics
Review
Introduction
The ability to produce atoms and atomic ions in a single quantum state has revolutionized atomic physics [1] and the technologies it provides [2–5]. To produce this quantum matter, the temperature of the atoms and ions are lowered such that the Gibbs factor is appreciable for only the quantum ground state. The techniques for reaching these, so-called, ultracold temperatures, which are the subject of several recent Nobel prizes, are centered around laser cooling [6].
In laser cooling, the simple electronic structure of an atomic system is exploited to remove thermal energy from a particle by scattering a large number of photons from it. If the ability to prepare single quantum state matter, i.e. ultracold matter, could be extended to more complicated systems, e.g. molecules, a new era in both physics and chemistry, and the technologies they provide, will begin [7, 8]. Unfortunately, the same complexity that makes molecules attractive renders them unamenable, with few exceptions [9–11], to laser cooling.
An interesting alternative to laser cooling for the production of a single-quantum-state molecular sample, is to use a reservoir of ultracold atoms to sympathetically cool the molecules to ultracold temperatures [12–14] – in much the same way that cryogenic systems use a helium buffer gas to cool other objects to cryogenic temperatures. In principle, this technique of ultracold-atom sympathetic cooling is completely general since it relies only on the second law of thermodynamics. In reality, however, there are many practical issues that must be considered before efficient sympathetic cooling of molecules by ultracold atoms can occur. These issues and the means to understand and control them are the subject of this review. This manuscript is an attempt to concisely describe the current understanding of these practical issues in the so-called MOTion trap system and the solutions we have implemented in our laboratory to circumvent them. As with all things, there are many exceptions to the 'rules' presented here, which have been omitted for the sake of brevity. Likewise, other exciting techniques for producing ultracold molecular ions, such as sympathetic cooling with atomic ions in combination with rovibrational optical pumping [15–17] or state-selective ionization [18], and cooling in multipole traps [19], are not reviewed here for the same reason. In what follows, the MOTion trap system is first introduced, sympathetic cooling with ultracold atoms discussed, and techniques for creation and detection of molecular ions are summarized.
The MOTion trap
The first challenge to be addressed is the design of the experimental system that will enable sympathetic cooling of molecules by ultracold atoms. This system must be capable of immersing the desired molecules in the ultracold atom cloud (typically a spherical volume of ∼0.01−1 cm3), so they can be sympathetically cooled. Since most methods of producing gas-phase molecules in vacuum lead to approximately room temperature, or hotter, molecules it is desirable to construct a trap with a potential energy depth of the same order. Further, because sympathetic cooling is largely species independent, it is desirable that the trapping potential is also species (and quantum-state) independent. These two factors combined suggest that sympathetic cooling with ultracold atoms is particulary effective for cooling of charged molecules, which can be trapped with ion trapping technology [20], yielding a large and state-independent trap depth.
Generally speaking, the ultracold atoms available for current experiments are produced by laser cooling [6] and will therefore either be in the magneto-optical trap (MOT) that produced them or a secondary, e.g. magnetic or dipole, trap following laser cooling [21]. Because laser-cooled atom clouds are small, they have limited heat capacity and therefore limited cooling power. Further, as will be discussed later, the use of an ion trap introduces a small, continuous heat load on the molecules. Therefore, for efficient sympathetic cooling of molecular ions it appears that the use of a MOT, where the atomic temperature is held constant by active laser cooling, is a good choice for the ultracold atom reservoir; otherwise, the molecular ions heat the trapped, non-actively cooled sample of ultracold atoms, complicating the production of ultracold molecular ions.
As a result, we have built a combination MOT and ion trap, dubbed the MOTion trap, as shown in Fig.
1
. The choice of a linear Paul trap is driven by the simplicity and large optical access of the design. In this figure, Yb
+
ions are laser-cooled and imaged in the ion trap as a substitute for the molecular ions to allow visualization of the trapped ion cloud by laser induced fluorescence imaging. While the MOTion trap was proposed as a means to provide ultracold molecular ions, it has also produced many important results in quantum chemistry since it brings ultracold atoms and ions together in a controllable way. Specifically, because ion trapping provides an effectively infinite trap lifetime, simple reaction product detection, and the ability to work with very rare species, a variety of chemical studies, not currently possible for all neutral reactions have been carried out. The interested reader is directed to the excellent recent reviews of Refs. [
7
,
22
].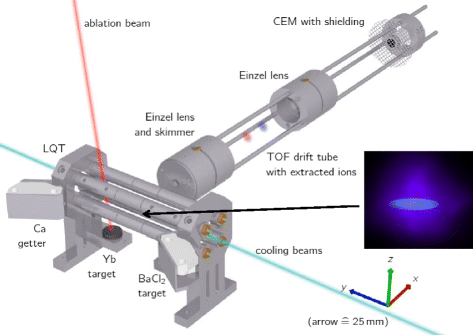 Sympathetic cooling in the MOTion trap
At first glance, sympathetic cooling appears an ideal method for producing ultracold molecular ions. Simply place the molecules in a cold bath and let them equilibrate to the reservoir temperature. This picture is complicated by the kinematics of collisions in the presence of the ion trap, the possibly slow relaxation of molecular internal states, unwanted chemistry, and a variety of 'experimental issues' that must be mitigated. In this section, each of these issues and its solution is described in turn.
Generation and detection of molecular ions
A prerequisite for all of these experiments is the ability to produce and detect the molecular ions of interest. Over the last few years several techniques have emerged as the consensus methods of the field for meeting these requirements. These techniques, and their variations, are briefly described below for completeness.
Generation of molecular ions
The thermodynamic conditions where ions exists are generally quite extreme compared to our everyday experience. Therefore, typically neutral species must be ionized through the addition of energy in some form. This is accomplished in a variety of ways, with the three most common methods being ionization of neutral molecules in the trap volume, laser ablation, and chemical reaction with trapped atomic ions.
In the first method, a low-density neutral gas containing a parent molecule is leaked into the vacuum chamber, either through a leak valve or pulsed valve. An electron beam or laser (lasers if a multi-photon ionization scheme is used), is focused into the center of the trapping region. The neutral molecules are then ionized (and perhaps dissociated), producing the desired molecular ion inside the trap volume. This technique, which is reviewed in [54], has many advantages including control of trapped ion number and the possibility for producing rovibrationally state-selected molecular ions.
Another method for producing molecular ions is via laser ablation of a solid target. Here, a solid target (with requisite low vapor pressure) is placed inside the vacuum vessel close to the ion trap. A high-power laser, typically a pulsed Nd:YAG laser, is focused onto the target. The laser dramatically heats a small volume of the target emitting a highly-ionized plume of gas from the surface, which contains a large number of atomic and molecular ions derived the target constituents. These ions can be loaded into the ion trap in a number of ways. First, as was demonstrated in [55] the plasma itself can short-circuit the trap electrodes causing a sag in the trapping voltages. By the time the voltages recover, low energy ions from the ablation plume have moved into the trap volume and the trap potential recovers around them. In our experience, we have found that more reproducible loading can be achieved if the trap voltages are instead turned on at a specified delay, typically a few tens of microseconds, following the ablation pulse. Loading stability is further enhanced by ensuring that the phase of the rf is stable with respect to this turn on, i.e. the rf is increasing with the same polarity each time it is turned on. While laser ablation is a very simple method for producing a large number of molecular ions, it has the disadvantage that if the plume is not controlled it can lead to patch charging of the electrodes over time; resulting in constantly changing micromotion compensation conditions. Further, the laser ablation process typically leads to a trapped sample composed of many types of ions, e.g. atomic ions and molecular ions species other than the molecular ion of interest. In our experience, we have found that these ions can typically be ejected from the trap by changing the Mathieu a and q parameters to eject the unwanted ions. Secular excitation has been used in other experiments [53] to remove unwanted ions, but it often has the undesirable effect that the excited ions heat and eject the other ions in the trap.
Finally, it is also possible to load molecular ions into the trap by first trapping an atomic ion of interest, usually produced by ionization of a neutral atomic gas, and then leaking in neutral molecular gas to react with the atomic ions and produce the desired molecular ions. This technique was pioneered by the Drewsen group for the production of MgH + via the reaction of Mg + with H2 [56]. More recently, the Brown group has used a similar technique to produce CaH + [57] and the Chapman group has produced a detailed study on the production of Ba containing molecular ions with this method [58]. The advantage of this technique is that it only requires ionization of a neutral atom, which is typically well known. Further, if the precursor atomic ion is laser cooled then the growth of the molecular ion fraction in the trap can be monitored and precisely controlled to produce a controlled number of molecular ions.
Detection ToF-MS and spectroscopy
Because the ion trap is largely species independent it is possible to simultaneously trap a variety of atomic and molecular ions. This can be a significant advantage if experiments have the ability to assay the contents of the ion trap. This allows, for example, the careful determination of chemical reaction branching ratios and the use of action spectroscopy techniques to record high-resolution spectra with only a few trapped particles. There exist a variety of techniques for assaying the contents of an ion trap, including secular excitation [59] and q-scan [60] mass spectrometry. In our limited experience, we have found that these techniques can be sensitive to many systematic effects, especially in systems not explicitly optimized for mass spectrometry, and often do not provide an absolute (or at least easily-calibrated) mass spectrum. (It appears most of these non-idealities stem from the fact that, due to the requirement of optical access, the trapping fields used in hybrid trap experiments are not truly quadrupolar. If more sophisticated trapping geometries are devised that allow optical access, while retaining a truly quadrupolar field these techniques may become useful to the field). To overcome these limitations, we have developed a technique, where ions are radially ejected from a linear ion trap, similar to that proposed in [61], into a time-of-flight mass spectrometer (ToFMS) [62]. Further, if a laser-cooled atomic ion, which sympathetically cools all the trapped ions, is also present in the trap then the mass spectrum is dramatically improved; in fact, we have demonstrated mass resolutions m/Δ m>1000 with a flight distance of only ∼ 30 cm [63, 64].
A detailed review of this technique is provided in [65]. Briefly, by radially ejecting the ions from the trap, instead of ejecting along the axial direction as is usually done, the resolution of the mass spectrometer is improved because the ion cloud is much smaller in this radial dimension. Further, co-trapped laser-cooled atomic ions sympathetically cool all the ions, increasing the assay phase space density and thus the mass resolution. This resolution is sufficient to observe the individual isotopes of the trapped molecular ions and has allowed isotopically resolved chemistry and spectroscopy. Several other groups have also recently developed ToFMS capabilities using variations of the technique [66–69]. In addition to being a powerful measurement capability, we have found that in day-to-day operation the ToFMS provides an incredibly useful diagnostic tool. As a result, all of our current ion trapping systems, regardless of their purpose, include ToFMS capabilities.
Conclusions
Roughly six years ago the first experiments on producing cold molecular ions via sympathetic cooling began. Since then a variety of experimental challenges, detailed in this review, have been addressed. The original goal of sympathetic cooling of a molecular ion has been demonstrated at the proof-of-principle level [19, 41, 70]. Further, these same systems, perhaps surprisingly, have also shed light on other important areas including the resolution of several longstanding problems in ion trap collision kinematics and non-equilibrium physics [25, 27–29] and the first observations of cold atom-ion chemistry [7].
Currently, the field is poised to go beyond these initial first steps in all three of these areas. Experiments to probe the quantum coherence of the cold molecular ions are underway [71] and represent the first steps towards using molecular ions in quantum applications. Work is also ongoing to use the MOTion trap to study and simulate important nonequlibrium physics phenomenon. Nonequilibrium physics is ubiquitous in a variety of fields, including biology, but there are virtually no model systems, where parameters are precisely known and controllable, to test theoretical predictions. We believe the MOTion trap provides such a system, as detailed here. Further, work studying cold atom-ion chemistry, which has implications in atmospheric, interstellar, and combustion chemistry, is becoming more mature. A variety of species have now been studied and theoretical calculations are beginning to be performed. We expect to move from simply studying these reactions to actively controlling them at the quantum level in the next few years. Thus, though still in its infancy, the hope is that further development and use of the MOTion trap system will continue to push our understanding in these diverse fields and make the technologies they promise possible.
Declarations
Acknowledgements
The author thanks the colleagues, postdoctoral researchers, and graduate students who have made the MOTion trap possible – Alex Dunning, Kuang Chen, Mike Mills, Prateek Puri, Wade Rellergert, Christian Schneider, Steven Schowalter, and Scott Sullivan. This review simply repeats the important things they have discovered in their development of the MOTion trap. He also acknowledges a fruitful collaboration with Svetlana Kotochigova on virtually every aspect of his work. This work was supported by National Science Foundation (PHY-1205311) and Army Research Office (W911NF-15-1-0121 and W911NF-14-1-0378) grants.
Competing interests
The author declares that he has no competing interests.
Authors' Affiliations
(1)
Department of Physics and Astronomy, UCLA, Los Angeles, USA
Copyright
© Hudson 2016
licensee Springer on behalf of EPJ. This is an Open Access article distributed under the terms of the Creative Commons Attribution License (http://creativecommons.org/licenses/by/4.0), which permits unrestricted use, distribution, and reproduction in any medium, provided the original work is properly cited.